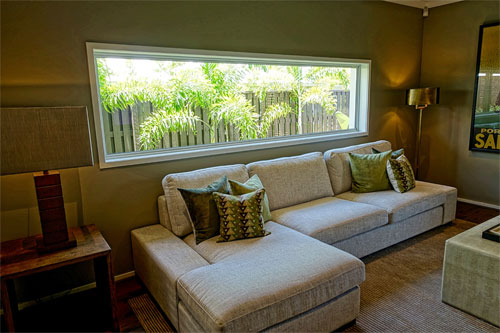 Here are some new 2017 window designs.  This year is the year of wall windows and picture windows. It's time to let the sun in with bi-fold window doors as top designers and architects showcase just how magnificent a house can be transformed simply by changing your window designs.
And why not take in the beautiful panorama and vistas of picture perfect Florida with its breathtaking sunsets and inspiring and magnificent coastline? However, one of the primary concerns of home owners in Florida is protecting their homes from damage in case of storms or hurricanes. For this reason, storm windows have come a long way from their original basic form and can now be incorporated into almost any window frame and design imaginable.
Some of the window designs that began to appear in 2016, and is expected to frontline window designs this 2017, include the following:
Wall Windows
These are large windows or glass walls. It almost encompasses the entire wall of one side of a room whether it is a bedroom or living room. This kind of picture window is an amazing manner of blending old and new designs while improving the dramatic architectural ambience of a room. During the day, you can allow the light to shine through which should help lower your electricity consumption. At night, drapes or blinds can provide privacy, if desired.
Colored Window Glass
No, not stained windows but colored glass that can compliment your interior. There are also decorative or textured film that can be used on the glass window which offer an alternative choice to drapes or blinds. When using color or texture on glass windows, the best way to handle this trend is by keeping it sleek and simple. Too much color or design will be distracting and too busy to be appealing. Plus, if you decide to use color or texture, do not complicate the window by adding blinds or drapes.
Adding Small Windows as Accent for High Ceilinged Rooms
Rooms that have high ceiling can sometimes give the impression of emptiness. You can change this by adding small windows on top of your main window or door. This design will add that surprising pizzazz to your room and transform it with a modern touch.
Accessorize!
Finally, from the window locks to cranks, frames, and handles you can give your windows a great re-do. However, before you decide to just change these accessories, make sure that the window system has been inspected and changed, if necessary. It's also the best time to check the strength of the glass panes and upgrade them to hurricane quality which will improve the value of your house exponentially.