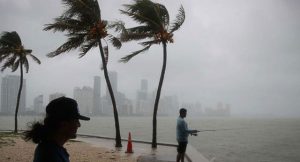 When a hurricane hits, no one screams about how cool they are, but you'd be surprised to learn what an interesting natural disaster they are. For example, you might be wondering what happens to the birds? While humans flee the area or hunker down and wait it out, where do the birds go? Scientists aren't necessarily sure if they leave the area or fly ahead of the hurricane, but birds have been shown to leave the area as well. They are believed to hear sound waves below what humans can perceive, known as infrasound, and this warns them of the incoming storm.
Where Does the Word Hurricane Come From?
The actual English word for hurricane comes from a Native American word called, "Taino." It means "Evil spirit of the wind," which should tells you all you need to know about what this culture thought of hurricanes. A tropical storm can travel up to 74 miles per hour, but hurricanes can travel even faster than that. In fact, hurricanes can travel at speeds of up to 160 miles per hour. They form in warm moisture atmospheres and over warm water, and as the hurricane hits land, it starts to disintegrate.
Releasing Death and Destruction
Great hurricanes can be devastating to anyone, and they have been known to release the equivalent of 10 atom bombs per second. You don't even want to imagine the amount of power behind them.
Inside the Eye of a Hurricane
If you want to know where the most dramatic weather changes on earth occur, then you should look no further than the eyewall of a hurricane. Inside of the eye, you normally have a light wind. They're usually about 20 to 40 miles in diameter to give you a picture of how big hurricanes can be. Meanwhile, only a short distance away, you have what's known as the "Eyewall." When you hit this point, you know it because some of the most destructive and intense hurricane winds will be found near the eyewall.
Hurricane eyes will appear in different shapes and sizes. Some hurricane eyes will be clear enough that you can see water or land from satellite imaging. Someone on the ground could possibly even see the stars at night.
Will Hurricane Windows and Doors Protect You?
A hurricane window is comprised of polyvinyl butyral in between two slabs of glass. While the glass most likely shatters on impact, the polyvinyl butyral keeps it in place. While these windows do cost a little more, they offer you better protection. Meanwhile, hurricane doors will be made from commercial-grade aluminum with the finest hardware.
Important to note that just because a hurricane has only been classified as a three or four doesn't mean that you shouldn't take precautions. In fact, the one that slammed Galveston, Texas, in 1990 was only a category four, but 8000 people died as a result of 15-foot waves and 130 mile-per-hour winds. Hurricanes kill more people every year than any other storm.
Contact East Coast Windows and Doors today and be ready for the next storm.
Sources:
https://www.conserve-energy-future.com/various-hurricane-facts.php
https://weather.com/storms/hurricane/news/eye-hurricane-photos-20130809
https://www.thebalancesmb.com/how-much-cost-will-a-hurricane-resistant-window-add-844562
https://www.forbes.com/sites/grrlscientist/2017/09/08/where-do-birds-go-in-a-hurricane/#3fc47e89254a